Believe it or not Father's Day is right around the corner! Father's Day is the day that we take time to celebrate the important men in our lives. I've been doing the same sorts of things for our celebration for years now. I think it's time for a change! That's why I've decided to do a round up for the most easy, fun and creative Father's Day crafts, printables and activities for preschoolers!
I've divided the Father's Day activities for preschoolers into 3 categories: craft activities, printable activities, and treats.
Creative Father's Day Craft Activities
Easy Father's Day Fingerprint Craft Card

–

Three Kids Three Cats and a Husband
Here's an easy, personalized homemade Father's Day card that even little ones can make. Great for dads who are handy with tools!
2. DIY Woodsy Style Candle in Mason Jars– Swankey Den
These sandal wood and eucalyptus DIY mason jar candles make the perfect gift for men, for Father's Day or for anyone that loves the outdoors. Best of all they're easy and affordable to make.
3. Toothbrush Spray Art with Kids– Lil Tigers
Make your own father's day card with this fun spray technique. All you need is an old toothbrush and you are good to go.
4. DIY Heart String Art– Lil Tigers
Surprise dad with this stunning nail art project for beginners. He will love it!
5. Dad Rocks Salt Dough Paperweight Craft– Ottawa Mommy Club
Kids can make this Dad Rocks Salt Dough Paperweight to give to their father on Father's Day. Super fun and easy craft for kids.
6. The Best Dad Rocks Craft– Get Your Holiday On
Show dad how much he rocks with a creative art project. Keep kids entertained by making silly rocks or rocks that look like them. Plus, grab a free printable to add to your project!
7. Simple DIY Handprint Heart Card– All About Baby Blog
Try out this simple card to have the kids make for Dad this Father's Day.
8. Super Hero Father's Day Craft Idea– ConservaMom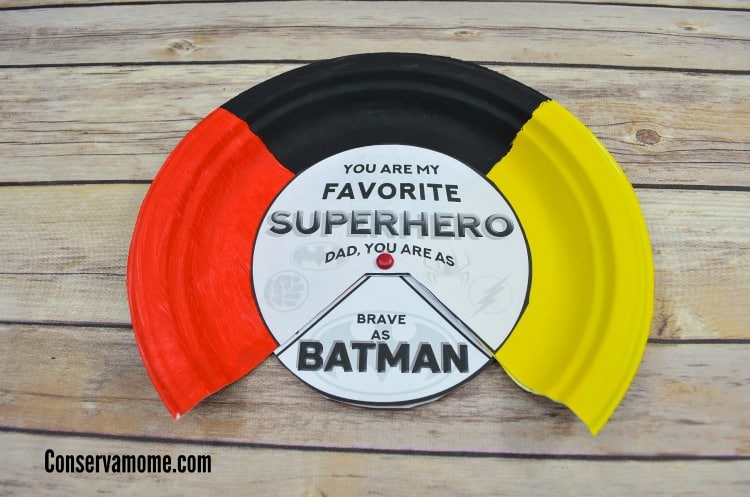 This fun Superhero Father's Day Craft Idea is the perfect way for kids to show their father what an amazing superhero they think he is. Easy to make and a fun project that will be something they treasure forever!
9. Father's Day DIY Canvas Hand Painting Craft for Kids– Cendu Param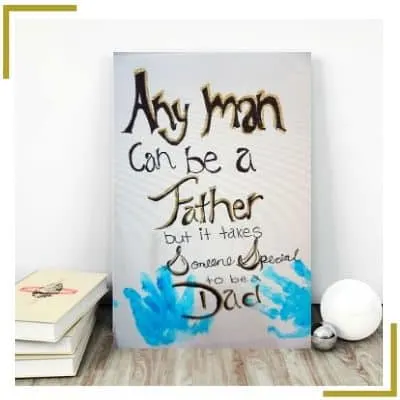 Here's an easy peasy Father's Day craft that even the littlest hands can make. Create a special handprint and quote wall hanging to let dad know how awesome he is.
10. Easy DIY Garden Stepping Stone Craft– Fluxing Well
These easy garden stepping stones can be made to commemorate Father's Day. There are many different ways to customize them.
11. Star Wars Yoda/Grogu Card Craft (Free Template)– Simple Everyday Mom
This Star Wars Yoda/Grogu Card craft is perfect for kids to make for Dads that love Star Wars.
12. Rocket Father's Day Card Craft– Simple Everyday Mom
This Rocket Father's Day Card craft is quick and easy for the kids to make for Father's Day.
13. Easy Fish Print T-Shirt– Fluxing Well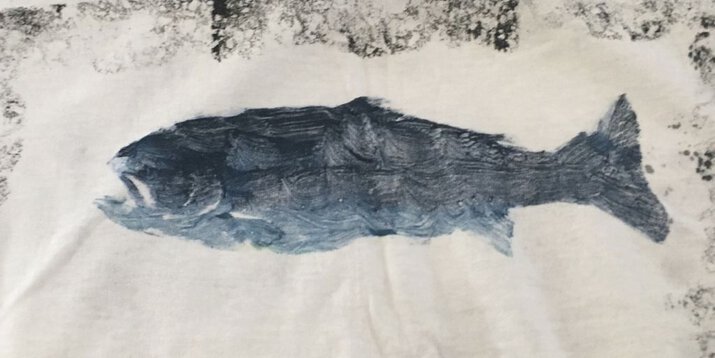 This easy fish print t-shirt is simple enough for even the littlest kids to join in on making. It makes a fun, creative Father's Day keepsake.
14. Father's Day Footprint Craft– Tired Mom Club
This Father's Day Footprint Card is a great craft for a last minute gift idea for dads or grandpas.
Father's Day Activity Printables for Preschoolers
15. "I love my Dad" Father's Day Printable Survey– These Hungry Kids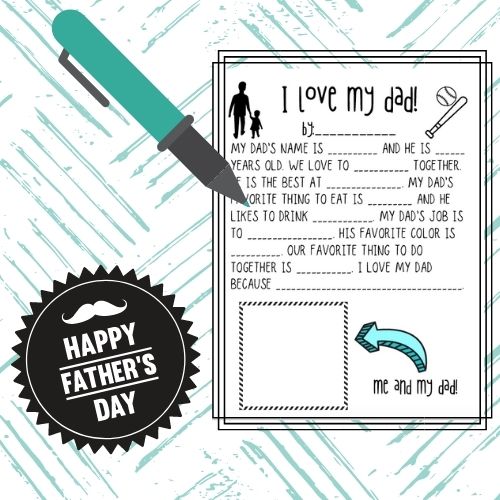 These questionnaires make for an adorable keepsake! Have your child fill it out year after year to see how their answers change.
16. Father's Day Coloring Pages (Free Printables)– These Hungry Kids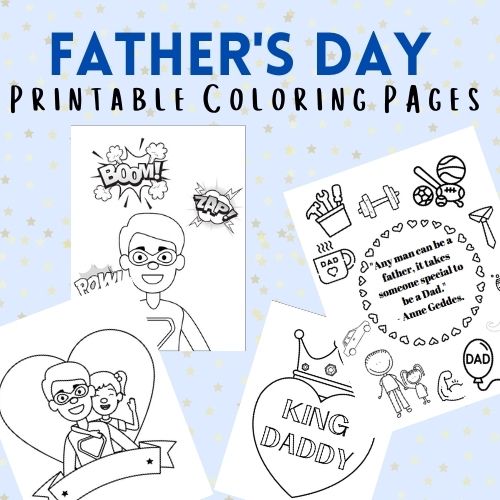 These fun and easy printable coloring pages are totally free! Decorate dad's office or favorite space with these exciting coloring pages.
17. Father's Day Questionnaire and Free Coloring Pages– All About Baby Blog
Use this free Father's Day questionnaire and coloring pages to help the kids celebrate Father's Day this year.
18. All About My Dad Printables– Maple Planners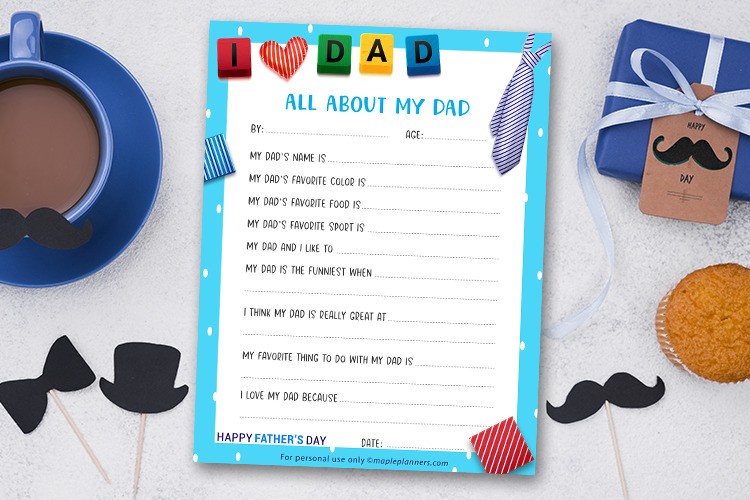 A Perfect gift for Father's Day, that is so real and so thoughtful. These All about my Dad printables are great activities for Dads' special day. Kids will have a blast putting this questionnaire together.
19. Free Printable Father's Day Word Search for Kids– Two Kids and A Coupon
Help dad celebrate his special day by doing a fun and free printable Father's Day word search for kids together!
20. DIY Dog Themed Father's Day Card– The Inspiration Edit
Here is a fantastic Fathers Day Card and free printable template. Fathers Day is a wonderful opportunity to get creative with the kids making gifts and that special DIY Fathers Day card.
21. Easy to Make Father's Day Superhero Gift (Free Printable)– A+ Teaching Resources
Fun and super easy Super Hero Fathers Day Craft with free template.
22. Free Father's Day Printable Activities in Spanish for Preschoolers– Lorenna & Lennox Bilingual Beginnings
Four Free Father's Day printable PDF activities in Spanish for toddlers, preschoolers and kindergarteners. They are the perfect activity to do in the classroom or at home!
23. All About My Dad Printables (+Grandpa and Special Person)– Literacy Learn
Celebrate your special person on Father's Day with these free printable PDFs! They guide children to share all about dad, in their own words! Children will answer questions on the "All About my Dad" printable page, then draw a picture of the two of them together on the "My Dad and Me" page.
24. Show Kindness to Dads Father's Day Card– Coffee and Carpool
Use this Father's Day poem as a card or a gift. There's a version for dads, daddies, fathers, papas, and dadas.
25. Father's Day Color Me Candy Wrapper Card- DIY Party Mom
Celebrate dad with a free printable candy bar wrapper printable this Fathers day. Color, wrap around a Hershey candy bar, and give to your favorite dad as a yummy Fathers Day card.
26. Father's Day Coloring Pages– Cendu Param
Your toddler will love creating a special masterpiece for dad this Father's Day with these super cute (and absolutely free) Father's Day coloring pages. Make a card or frame it for dad to proudly hang and display.
Father's Day Treat Activity
27. Father's Day Sour Cream Sugar Cookies with Cream Cheese Frosting– Saving Talents
Your toddler will love making and decorating these cute Father's Day cookies for dad!
Conclusion
In conclusion, I hope you have gained some inspiration on ideas for crafts the kids can make or participate in making for dad this year.
What ideas do you have for crafts or printables preschoolers can give as gifts for Father's Day? Leave them in the comments! I would love to hear!